Southwest Travelogue
an account of our recent vacation in Utah, Colorado, New Mexico, and Arizona with travel recommendations
by Richard Seltzer, seltzer@samizdat.com


Boston to Las Vegas (flying on Song), Tuesday 7/26/2005

Arriving at Logan Airport in Boston, we were surprised at how much had changed since last November, when we flew to Washington. This time we went to the airport on a Silver Line bus (which didn't exist 6 months ago) from South Station. At the terminal the procedure for picking up electronic ticket and the security procedures had changed. This time around, because we were wearing sneakers we didn't have to take our shoes off. And about 10% of travellers had to go through a new machine that takes 2-3 mniutes and that blows air into your clothes (while you are wearing them).

In the plane, we had individual screens on the seats ahead of us, with satellite TV and games and pay movies and continuous information about the progess of the plane.

Arriving Vegas at 10 PM, we rented a car at Hertz (having gotten a good deal through Hotwire http://www.hotwire.com You indicate what you need in a rental car and where and when, and only after you commit do they tell you the name of the rental car company. That felt strange, but we gambled, and it worked.) We had a reservation at the Howard Johnson's near the airport. Inexpensive, being renovated -- but all we wanted to do was sleep. The reservation was very necessary -- the place was packed.

Las Vegas to Zion National Park, Wednesday, 7/27/2005, 160 miles, 4 hours, interstate 15 to route 9

Along the interstate, walking on the shoulder of the road right beside us, we saw a long-horned sheep; and in the sky above us we saw what was probably a golden eagle.

We stayed at the El Rio in Springdale on state route 9, about a mile from the entrance to Zion National Park. Quiet, comfortable, and conveniently located.

Shuttle buses run every 10 minutes along the one street in the town of Springdale (route 9), taking you to the entrance of Zion. Another set of shuttle buses runs through the park. Both are free, and both run until 11 PM. The park shuttles go to all the accessible parts of the park (the route is about 5 miles long), including parts you aren't allowed to drive to.

Tip: At each of the National Parks that we visited on this trip, it cost $20 entry for a carload. But for $50 you can buy a one year pass that is good for a carload of visitors at all National Parks for a year.

First we rode the park shuttle to the end and walked the Riverside Trail.

Zion has about a dozen carefully marked trails. The easiest of these are Riverside and Lower Emerald Pond, both of which go along the Virgin River ("River"? It looked like a tiny muddy creek. Purportedly, it's much fuller in the spring, fed by melted snow). We did those two walks, plus Weeping Rock, which was short but steep.

The trails we went on were paved, like a walk in Central Park. Access off the path (for instance, to the "river") was strictly limited to a few "access points".
There are much more difficult, multi-mile, multi-day trails as well, some of which lead to the tops of surrounding peaks. Our experience would probably have been far different if we had been in good hiking physical shape and had ventured that way. (We had no hiking experience before this, and the walking we had done back home was insufficient preparation).

The only wildlife we saw at Zion was a deer spotted in the distance from a shuttle bus.
Zion again, then to Bryce Canyon National Park, Thursday, 7/28/2005 (our 32nd anniversary), by way of route 9 through Zion
We went back into Zion intending to watch the 22-minute orientation video we had skipped on day one. That was closed for repairs. So, instead, we got a talk from a park ranger about local geology, which was well worth the time.
Tip: The National Parks we visited each typically had an "orientation". The ones we saw were all very much the same, and all a waste of time. They provided the same basic information about geology and history; and none of them provided the kinds of information we needed -- what was available at that particular park; what choices we had; what the place looked like, etc.
Next, on the advice of the ranger, we drove through Zion on Route 9 (a dramatic, winding, cliff-edge climb to the heights), including a mile-long passage through a narrow tunnel. The views of the canyon from this ride were far better than what we saw on the shuttle and on the hiking trails the day before.
Tip: The rangers let cars through the tunnel one direction at a time, which means a typical wait of about 15 minutes. Don't take this route if you are in a hurry. Definitely do take it if time is not a factor and you appreciate great views.
Immediately outside the tunnel, we turned into a parking lot on the right and then crossed the street and went up the Canyon Overlook Trail (also recommended by the ranger). This narrow, steep, winding trail was probably about a mile long as the crow flies, but far longer as the tourist stumbles. There was some difficult footing on natural rock, with sandy spots and wet spots. There's a scary stretch of about 20 feet where you have to walk across a wooden bridge. But the views were incredible -- well worth the effort (and the risk).
On the drive from Zion to Bryce, we saw a herd of ostriches on a farm, and also saw a restaurant selling "buffalo burgers", with a herd of buffalo grazing in the field behind. (No, we didn't stop there for lunch.)
That night we stayed at Foster's a couple miles from where shuttle buses start for Bryce Canyon. (If you don't mind crowds, Ruby's is a much larger and more commerical motel, closer to the park and with two restaurants, a store, and a rodeo across the street. Foster's was just fine for our purposes).
As soon as we arrived, we made a quick scouting run into the park, watched the useless orientation video, and talked to a very helpful volunteer ranger, getting advice for what to do the next day.
After buffet dinner at Ruby's, we, on the spur of the moment, went to the rodeo across the street -- a daily show. About 150 attendees filled the stands -- mostly from Europe. It was a fun show. The most memorable event featured two-or-three-year-old kids riding bucking sheep.
at Bryce Canyon National Park, Friday, 7/29/2005
At Zion, the free shuttle buses were essential, going to the best parts of the park that were out-of-bounds by private car. At Bryce, the shuttles don't go to the best places, but cars can go there.
We had planned to do a horseback ride into the canyon early in the morning, but they were sold out. We signed up for a half-day ride that afternoon ($55 each).
Tip: Ruby's runs horse/mule rides, as does the Park Service. We chose the Park Service, for which you sign up at the main lodge on the park grounds. Our ride took us down into the heart of the canyon. I can't imagine a more memorable route.
In the meantime, we took a car ride to the far sourthern end of the park (Rainbow Point). On the way, a full-grown buck jumped right in front of our car. Fortunately, I was driving slowly, and hit the brakes fast.
At Rainbow Point we saw excellent views of canyons below (in sharp contrast to the plain ordinay evergreen forest that we had been driving through to get there and which gave no hint of the wonders lying a few hundred yards away.

We made about a dozen stops driving back to the lodge where the horse/mule ride started.
Tim (15) was very natural and comfortable on his mule, holding the reins in one hand and the whip in the other. Barb, too, looked very comfortable and in control. I was hanging on frantically with both hands on the pommel most of the time.
The trail took us round and round, down and, up and down, and up and down, along narrow cliff-edge paths. It was a matter putting your faith in your mule and letting it maneuver the hairpin turns in its own way. My mule, "Stacey", preferred walking on the edge of the cliff.
I was okay with the riding, even with the occasional gallop to catch up with the others (I was last in line); but the heights were sometimes freaky. I was okay with the cliff to my right, but felt serious vertigo, when the cliff was to my left.
Barb's mule, Jessie, went in front of mine (she's an old friend of Stacey). And Tim's Jenet went in front of Jessie.
We saw incredible, unforgettable rock formations (especially the "ampitheater" and a narrow corkscrew canuon we went up, twisting round and round.) This was the wild west.
For extra excitement at no extra cost, we had occasional thunder and lightning and rain and heavy gusty winds while riding our mules over narrow trails on the brink of cliffs.
Bryce Canyon to Moab, Saturday 7/30/2005, by way of Route 12, about 280 miles, 6 hours
Early in the morning, before we left, we saw a brilliant but short-lived rainbow as we stepped out the door of our motel room.
Much of the way, Route 12 was winding, twisting along cliff-edge roads. Dramatic views.
We stopped four an hour in Boulder, Utah to check the Anasazi Museum. It was barely worth the stop (but was worth it).
The Anasazi evolved from nomadic hunter-gatherers (5000-6000 years ago) to farmers living in holes ("pit houses") about 2000 years ago. That's the stage of this archaeological dig.
Along the way, in the mountains, Tim mentioned that the trees (aspen) were so close to one another that there couldn't be any deer there and hence there was no need to watch for them. A minute later, I spotted a doe standing near a tree next to the road.
The landscape kept changing radically at every turn or dip or upturn of the road, with mountains and cliffs of different shapes and sizes and clors. Many shapes did not look random. Rather they looked like buildings and castle tops and statues and even carved pictures or writing. It's very hard to believe that it is all random. It's also hard to believe that the Anasazi pictographs/petroglyphs are just arwork. Rather, they look like hieroglyphic-style writing or the begnnings of such.
in Moab, Sunday, 7/31/2005
We stayed at Bowen's Motel on Main Street.
In the morning we went to Arches National Park. (Along the way to there, we picked up tickets for dinner and Colorado River boat ride from "Canyonlands at Night"). The entrance to Arches is just a couple miles away from the town of Moab. This park is much less developed than Bryce or Zion. (See Desert Solitaire by Edward Abbey for a glimpse of what this park was like in the 1960s, when it was far less developed than it is now). There are no shuttle buses. You drive along a winding mountain road and stop here and there for a scenic view or hike. Lots of hiking. We were getting a bit weary of looking at rocks.

That evening (7 PM), we went to "Canyonlands by Night" for a potluck supper. (FYI -- "Canyonlands by Night" is a tour company, located in Moab -- far from Canyonland National Park, with which it has no relation). The meal was palatable, but nothing great; served on shore, next to their gift shop. Then we went on a leisurely boat ride a couple miles up the Colorado River to a sport where they started playing recorded, and projecting lights on the rocks around us. The narraitve wasn't particularly interesting and the lights were often a nuisance. But when they shut the lights out, the stars were magnificent.
from Moab to Monument Valley, Monday, 8/1/2005, 150 miles
We drove 130 miles to Mexican Hat, checked in at Burle Motel (under new ownership and being completely redone), then drove to Monument Valley and quickly signed up for a "vehicle tour."
Monument Valley is not a National Park; rather it is run by the Navajo Reservation. It cost $5 to get into Monument Valley and then $40 per person to take the tour (which was about the only way to see the place).
A teenage Navajo was our driver. He just graduated from high school. The main benefit of the tour was talking to him and learning about life on the reservation. He speaks the Navajo language with his friends, and respects the old beliefs, and seems to have no desire to leave the reservation. (He didn't know what "income tax" means.) His grandparents taught him the language. His grandfarther makes leather whips which he sells over the Internet for hundreds of dollars each. His mother makes baskets. He never knew his father. No one had to convince him or force him to learn the language and the ways.
I asked him if he had found many arrowheads on the reservation. He had never found a single one. (That's bizarre. As a kid, I found a couple in my front yard in Baltimore, MD.)
The tour itself was like a tour of a Hollywood backlot, and had little or nothing to do with the Navajo. Dozens of classic westerns (lots of John Wayne movies, and even Back to the Future III) were filmed here. Several of the stops on the tour were movie-oriented (e.g., "John Ford Point"). The "totem rock" was named by Mrs. Goulding, from the nearby motel/trading post. (Navajo don't have totem poles). She named many of the other features as well, and she and her husband helped bring the movie people here. The motel has a little museum with lots of movie memorabilia.
from Monument Valley to Canyon de Cheilly, Tuesday, 8/2/2005, 120 miles (by not the most direct route)
We arrived at this second Indian tourist area just in time for another vehicle tour.
This time we stayed at the Thunderbird Lodge, inside the park.
The tour guide was 55 years old and had been doing tours here for 30 years. We saw some Anasazi pueblos and pictographs/petroglyps, and we heard some history.
The Indians here (we heard) don't live here year round. Rather they move to winter quarters where they have other jobs. The guide told us little or nothing about the Navajo.
from Canyon de Cheilly to Durango, Colorado, Wednesday, 8/3/2005, 190 miles
Along the way, we stopped at "Four Corners" (where the states of Utah, Arizona, Colorado, and New Mexico all meet). The reservation charges $5 per person just to drive up the driveway to a photo-shoot spot, with booths around where Indians sell the usual jewelry etc. It was a silly waste of time and money.
We went by route 191, which was fast, even though it was only a two-lane highway. Once we got to 491, which the maps showed as a better highway, the speed limit dropped and the traffic got worse.
Cortez and Durango, Colorado, were both congested. (By now we were used to moving fast on empty highways, and the city-style traffic of Cortez came as a shock. The only traffic lights we had seen since Zion were in Moab.)
Between Cortez and Durango we saw a restaurant offering "elk meat", with a herd of elk grazing in the field beside it.
Our friends Bliss, Jim, and Sam met us at our motel in Durango (the Adobe) and took us on a 120 mile drive through the mountains to Silverton and back.
day trip to archaelogical site in Lowry, Thursday, 8/4/2005
Jim Judge, Anasazi archaeologist and retired professor from Fort Lewis College, took us to the archaeology labs at the college to explain the typical work of an archaeologist. Then he took us to the Lowry excavation site, part on private land and part on public land, where we saw partially rstored Anasazi buildings and, in nearby fields, saw other excavation sites from which relics had been removed and then the dirt shoveled back in (marked with soda cans as an already excavated site). He also led us to many as-yet unexcavated sites in the vicinity. Pieces of 1000-years old pottery lay clearly visible on the paths from one site to antoher (through the woods). This site appears to be associated with Chaco.
In the evening, we had dinner at Bliss and Jim's house (cooked expertly by Sam).
from Durango to Mesa Verde, then on to Window Rock, Arizona, Friday, 8/5/2005
It was 20 miles to the turnoff for Mesa Verde, then we had to drive 20 miles to get to the Visitors Center. This was a major mistake. The road inside the park (and this is a National Park) was hellish, with wild, difficult turns, on top of cliffs -- again and again and again.
We had driven along quite a few hairpin-turn mountain roads over the last week. But on the others, the difficulty of the drive was compensated for by amazing scenery. Here the scenery is hideous and depressing -- so many trees have died of bug infestations (bark beetles) and fire. That terrible road just ends abruptly -- it doesn't continue and doesn't loop back. So you have to drive that same dismal 20 miles back. And each way the drvie takes a minimum of an hour.
Our mood wasn't improved by radio alerts and signs warning of a major health hazard in the Park -- rodents dying of bubonic plague and the danger of the disease spreading to humans.
We walked one small trail to some well-preserved Anasazi ruins, then got out of there as quickly as we could.
Next we drove about 140 miles south (mostly on 491) to Window Rock, the capital of the Navajo
Rreservaton. We stayed at the Quality Inn.
from Window Rock to Walpi, (100 miles) then on to Page, Saturday, 8/6/2005
In the night, I had trouble breathing and couldn't sleep until after 3 AM. I was afraid I had "elevation sickness" and that thought made me tense, probably aggravating the problem. At 3 AM I checked a Frommer's Guide for what it had to say about elevation sickness. Not much. It was a matter of getting used to altitude (and I certainly should have been used to it after a week and a half.) It is sometimes brought on by a heavy meal. The book recommended drinking lots of water and made no mention of any serious consequences. That information helped me relax. I began to think that perhaps an ingredient in the spaghetti I had for supper at the motel might have triggered the reaction. By morning I felt great.
We drove about a hundred miles to Walpi, on the Hopi Reservation, as recommended by Jim. Although Walpi showed up on our map as on a side road off 264 west, we drove right past that road because there was no sign for Walpi. We turned around and drove back to the town of Polacca and turned left at the first road we came to. That road soon forked, with a sign to Walpi on the right.
By the way, while the Navajo have Monument Valley, Canyon de Cheilly, and perhaps other tourist-oriented parks, there does not seem to be any such park for the Hopi. Just a Hopi museum, restaurant , and motel clustered together, west of Polacca.
Walpi is on a small mesa, and a narrow windy road leads up to it. Today there were many cars parked along the cliff side of the road, making the road very narrow (two cars could just barely pass one another). At the top, I was very fortunate to find a parking space on one of the two narrow streets lined with old and small homes and shops.
We first went to a building labelled "Visitors Center", which today was rented out for a private party. There were no tours today. There was no infomation available for tourists.
We decided to walk around the village. At the end of the street, we came to a sign indicating that we couldn't proceed any further without a guide. But there were no guides.
At this point, we were under the impression that everything was shut down on Saturdays. We were ready to leave, when a tourist (German?) ran up to let us know that beyond the sign was an old lady who was giving tours -- good ones -- and who would wlecome us.
She charged just $5 per person. The other four people on the tour with us were Indians from other reservations.
She took us through the old village where Hopi have lived probably since the 17th century and where five families/people live today, in the same old strucures. Before the Hopi arrived and settled here (up high for defense against enemies, who otherwise would steal their chldren), the Anasazi lived here. The Hopi moved into and modified the Anasazi structures they found (a practice that reminds me of hermit crabs).
Hopi society is matriarchal. (You are a Hopi if your mother is).
The mother of the village (very old) lives alone, and apparently few pay attention to her any more. She chooses her successor form among her own clan, the ruling clan. (Our guide was a member of the warrior clan).
At the very end of the village stands a kiva (rectangular, not round; and without a tower) which is still used for ceremonies. Normally only men are allowed in the kiva. The exception is a cermeony for eight to nine year olds, where they are whipped, signifiying they are no longer directly connected to the Great Spirit/Nature. (There are five kiva total in the old village, all rectangular).
The Hopi still use foot drums in the kiva.
There are only about 5000 Hopi total -- far fewer than the Navajo, who surorund them and who are their traditional enemies.
They maintain a separate Hopi Language, religion, and culture. But that probably won't last for long.
Even our guide, a strong advocate of Hopi culture, does not speak Hopi at home. The current generation of Hopi children typically learn the language at school, not at home.
For centuries the Hopi (and perhaps their predecessors) have thrown their trash and garbage over the cliffs. What an incredible treasure trove for achaeologists!
When the walls of the old structure grow weak, the current residents renovate the buildings, burying the old original rock structures in cement. That's necessary for day-to-day survival, but damages/destroys the historical buildings. Soon Walpi won't look anythng like it originally did.
Contrast: The Navajo traditionally (and sometimes today, as well) live in isloated "hogans" (round structures made of wood covered by bark, then by red clay). The Hopi prefer to live together in interconnected stone buildings that share walls.
As in feng shui, the Hopi always put their front doors facing the east, for good luck.
We also, by chance, got to see a traditional Hopi dance. (The town was crowded that day because of the ceremonial dance. Hopi had come from miles around to participate and to watch.) Young grils and men in traditional garb were dancing to drums. It seemed to be a coming-of-age ceremony for the girls.
Unlike the Navajo, who typically sell just turquoise jewelry, and shoddy replicas of old weapons, the Hopi sell "katchina" -- colorful and creative wooden dolls. These dolls are images of spirits, and have religious meaning, but that does not stop the Hopi from selling them to tourists (and making them specifically for tourist)s. [In "Dance Hall of the Dead", a mystery novel by Tony Hillerman, (at least as I remember it), Katchina are spirits of the dead (to the Zuni people). But our Hopi guide told us that Katchina are living spirts, not dead spirits.]
Per our Hopi guide, the old men (not women) watch/keep track of the position of the stars/constellations and let the villagers know when to make adjustments to the cycles of ceremonies, so they don't get too far out of synch (which would foreshadow the end of the world). They keep track of time with marks in the walls of the main kiva.
She told an anecdote about recently receiving a strange package form a tourist -- returning a ceremonial feather. The tourist had a long string of bad luck since taking it and hoped that returning it would remove the curse.
Earlier, Jim had told us that often tourists who take pieces of pottery and other artifacts form achaeological sites eventually mail them back with notes to the same efffect.
A 20s-something Indian in our tour group very forcefully and articulately suggested to the guide that Walpi should do a better job of marketing -- at the very least puttin gup a sign at the main road. When I mentioned that the centuries-old trash at the bottom of the cliff had archaeological value and should not be just cleaned up and hauled away, he immeidately agreed that they should try to get value for it. To his suggestons about better organizing tours, tec., she let us know that Walpi consists of more than one village and that the old village that she jsut showed us and wehre she lives with a handful of others is at odds with the next village, where the Visitors Center lies. When the Visitors Center conducts tours, the folks in the old village, where the tourists are taken, receive no payment. It would be next to impossible to deal with the politics and institute real positive change.
(The other people in the tour group included an Aztec woman, a girl form Panama, and a father and son from another pueblo).
Many houses in the middle village had signs on their doors saying that they have katchina for sale. One appraoched us. I asked the price. Answer -- $40 to $60. Too expensive for us.
After Walpi, we stopped at the Hopi museum, back on the main road (264). They had a dioarma of Walpi built around 1930. But it did not include the last few buildings toward the end of the mesa, near the cliff (such as the main kiva). They also had a diagram of Walpi, showing all the structures, and with the names of clans associated with particular bulidings (with animal names, such as "mountain sheep clan"), but with no indication that the village portrayed was in fact Walpi.
At the museum, some rudimentary (not very attractive) katchina were for sale for as little as $10 (ones intended for children to play with. I bought a "discipline" katchina with feathers for $24.
Tip: You can't take photos in Hopi villages or in the Hopi museum.
We then proceeded to 160, then went west for 10 miles, then took 89 north.
Above the intersection wtih 89A, the road becomes mountainous and windy and slow-going. After a delay of about half an hour for an accident scene (a head-on collision requiring three ambulances and two helicopters), we finally arrived in Page, a resort town on Lake Powell, where we planned to spend the night.
Tip: If you want to stay in Page (especially on a weekend night), get reservations. Although there are dozens of motels, they all fill up very quickly. If you are heading for the North Rim of the Grand Canyon and are just looking for a place to stay along the way (which we were), don't go to Page. Instead, head west on 89A. There are a couple of motels on the right, maybe 5-10 miles from the intersection with 89.
We checked more than a dozen motels in Page -- all had "no vacancy". And none of the desk clerks knew of any place nearby with vacancies. We began our search in Page at around 6 PM local time. By about 8 PM we were getting desperate. At the last place we had tried, we heard that the nearest motel with a vacancy would probably be an hour an a half north in Utah or two and a half hours south in Flagstaff, Arizona.
I then chanced upon the Glen Canyon Motel, where someone had just called in a cancellation. Hallelujah! (And, by chance, at that motel we were able to buy half a dozen excellent-looking katchina, including a wolf and two badgers, for $5 a piece.)
from Page, Arizona to the North Rim of the Grand Canyon, Sunday, 8/7/2005
We drove down 89 to 89A, then to 67 and to the Kaibab Lodge outside Grand Canyon North Rim.
We are staying in a log cabin style dwelling with another set of guests on the other side of a very thin wall. These are rudimenary accommodations (no TV) in the woods at an elevation of about 9000 feet. It's cool to cold in the evening. There's no need for air conditioning. In fact, we needed to turn the heat on both nights here.
After checking in, we drove the 18 miles from the lodge to the Visitors Center inside the National Park.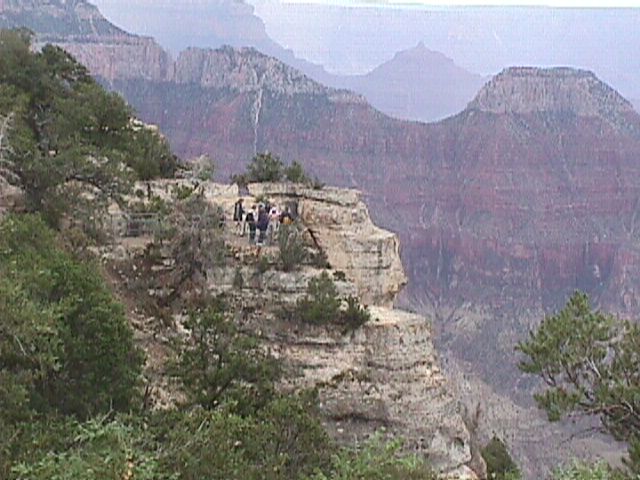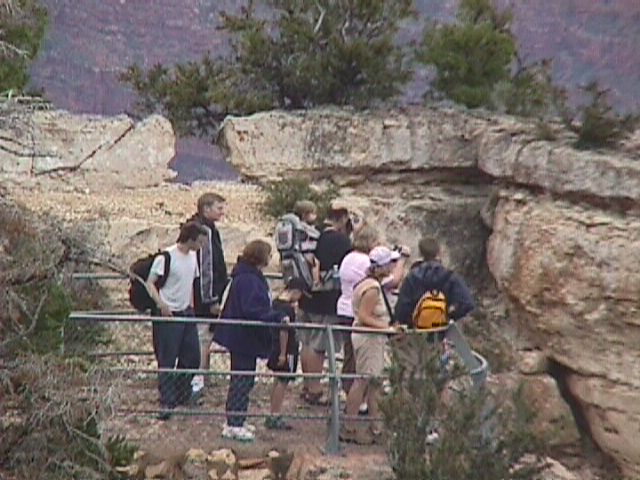 First Barb and Tim wanted to go on a half-mile trail called "Bright Angel Point". It really was a "point." The narrow trail ahd mile-deep cliffs on both sides. I couldn't take it. The vertigo was overwhelming.
I wish I could figure out how to overcome my vertigo, so I could fully enjoy this experience. My heart races, then I start breathing heavily (in part because of the altitude) and irrational fear grips me. At Bryce I had vertigo when cliffs were on my left , but was fine to the right. That doesn't apply here. Once I went down the trail with cliffs on both sides, it was as if some fear hormone flooded my system and for the rest of the day I couldn't go anywhere near a cliff. Even sitting on a sofa in the lounge inside the hotel, 20 feet from a wimdow looking out over the canyon I was breathing heavily, working hard to pull in enough oxygen.
Apparently, the South Rim of the Grand Canyon is near a highway and is built up and commercial. And over there, shuttle buses take tourists to trails. Here (where only 10% of Grand Canyon visitors come), the main trails/sights are miles from the entrance to the park, surrounded by deep woods. The only hotel in this part of the park (the Grand Canyon Lodge) is right on the cliffs. (Reserve rooms there if you can).
One of the best features of the North Rim is the Park Ranger talks and walks, which are free. There are about half a dozen of them a day. The condor talk was particuarly good, held on a patio just outside the main hotel, right on the cliff. It was also good viewing the stars at night, with a Park Ranger who had set up a telescope on that same patio.
We had another near miss with a deer on the way back to the motel.
North Rim of the Grand Canyon, Monday, 8/8/2005
I was down on this place, tired, ready to go home when I went to sleep. Then I woke up at dawn, after a night of thunder and lightning. For some reason unknown to me, I got up, put my clothes on, and stepped outside (totally out of character for me at that time of day). That was the moment that the sun first appeared above the the trees, and on the western horizon two rainbows suddenly appeared, one right next to the other. I have no idea how that was possible. I woke up Barb and she saw it, but it disappeared before I could wake up Tim.
Then at 6:20 AM, the double rainbow appeared for a second time. This time I quickly woke up Barb and Tim so they could see it and alerted our neighbors who were already up. Both rainbows showed up not only on the clouds and sky, but also on the trees at the end of the field, touching the ground just a hundred yards away from me. I ran out into the rain and stood where they had touched.
At 8:30 AM, we went on a long, excellent, frequently-interrupted by rain, nature walk with a volunteer Park Ranger (George Vargas). It was interesting to learn that ponderosa pine have the ability to survive lightniing storms, and that (counter to Smokey the Bear messages), periodic (about once every seven years) small forest fires tend to be good for the overall health of the forest. Without fires, undergrowth tends to get too thick and high, raising the danger that when a fire strikes it will burn wild, and far, and out of control, doing great damage. Briscoe pine trees, which are gnarled and ugly, with very small trunks, can be very old -- sometimes 2000-4500 years old. (We saw some of those at the Anasazi site in Lowry as well). The Ranger also told us about the kaibab squirrel which has a white tail, which makes it an easy target for hawks. We never saw one (though they are supposed to be plentiful here, and this is the only place in the world where they live), but I can't help but wonder how survival-of-the-fittest evolution could ever have led to them having white tails. Their tails seem, rather, to help the survival of the hawks.
We also saw Navajo dancers from Page, Arizona, performing a variety of Indian dances (none of which seemed to be Navajo). It's bizarre that there are no such dances/shows on the Navajo Reservation at places like Monument Valley and Canyon de Cheilly.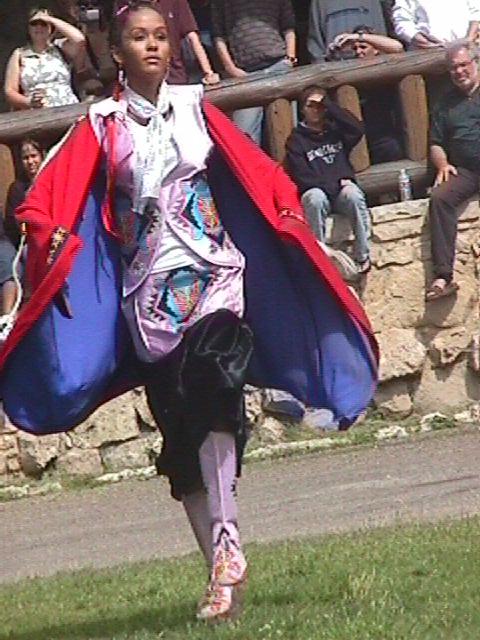 Then we hiked the Widforss Trail (a trail with a minimum of opportunities for vertigo). Most folks walking such a trail focus on the view of the Grand Canyon, or look for wildlife, or even look for rocks with fossils (which you have to leave there -- no taking rocks away). I focused on the ground, intrigued to see so much quartz rock so high, after hearing all the lectures about geology, and the layers of rock, with sandstone on the top and igneous (like quartz) at the bottom. And on the way back, between thunder showers, between markers 5 and 6, on a large rock mostly buried in the ground (it didn't look like sandstone; maybe granite), I saw a dark rectangle with several images that looked like Anasazi petroglyphs (that means stick-figure drawings etched into the rock; petrographs are paintings on rock). The most prominent image, on the right, was a stick figure in white, which looked like a man with extended arms. I took a couple of photos with my digital camera and later emailed copies to George Vargas at the Park and to Jim.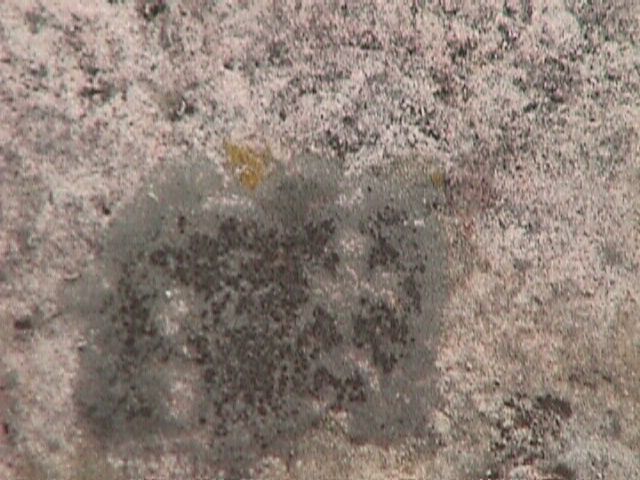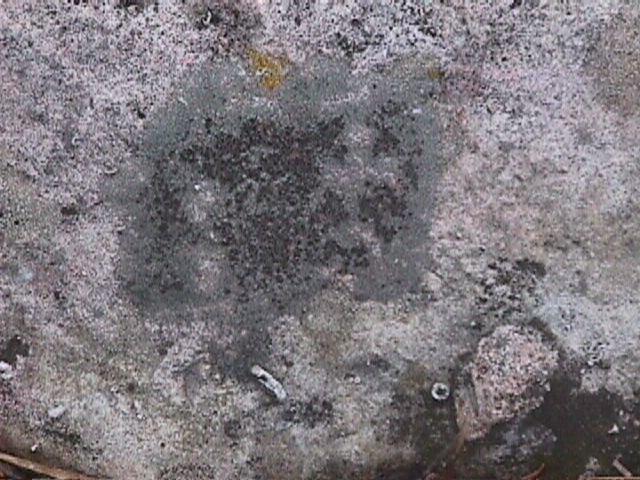 To my enthusiastic, untrained imagination, it seems possible that, perhaps when the population of Chaco disappeared, some Anasazi found their way to the North Rim at Grand Canyon. It seems possible that many Anasazi sites exist there in the deep forest near the cliff edge, and that they are far harder to detect not just because of the tree cover, but also because forest debris would in most cases have buried any evidence. It also seems possible that more petroglyphs might be found on that same rock under the ground and on others near it.
Probably nothing will come of this "discovery", but spotting it was an amazing experience, a great way to end a great trip.
North Rim of Grand Canyon to Las Vegas, Tuesday 8/9/2005
We got up at 6y AM, left at 7:30 AM and arrived in Vegas before noon. Four and a half hours. 250 miles.
We took 67 north to Jacob's Laike, then 89A west to Fredonia and then the southen route to interstate 15. The northern route through Zion Park on route 9 would have taken us on narrow winding mountain roads and through the tunnel again (with typical waits of around 15 to 30 minutes.
In Vegas, we drove down Las Vegas Boulevard (the "Strip") just to gawk at the big hotels, then stopped at MGM Grand (parking free), had the lunch buffet ($14.99 + tax each; good food, lots of choices). We ate enough to count for supper too.
Then we walked around and then volunteered as audience-reaction guinea pigs for a new a TV show. We saw the first episode of "How I Met Your Mother", a new series that we have since seen advertised to premiere this fall. It's a good show. Watch it.
Then we dropped off out rental car at Hertz (simple, quick, no surprises; we were very pleased; the vehicle, which we drove for 2500 miles, was a Ford Focus), then on to the airport and home.

---
Political Correctness Wins Out over Science
"Puebloan Ancestors" vs. Anasazi
At the Museum in Mesa Verde National Park, we made the mistake of viewing another "orientation" video. The Park itself is just an archaelogical site with Anasazi ruins. But the video never used the word "Anasazi". Instead it called those people by the more politically correct term "Puebloan ancestors". The video talked down to about third-grade level and presented hypotheses and falsehoods as if they were fact (e.g., that drought had broken apart the "Puebloan ancestors" but that today's Indians are their direct descendants. In fact, as close as can be determined, 100-200 years passed between the disappearance of the Anasazi and the arrival of the ancestors of today's Indians.) I was annoyed by many assumptions, such as presuming that if today's Indians do things one way, the "Puebloan Ancestors" must have done them that way as well (such as men weaving). The video was nauseatingly politically correct, obviously the result of careful compromise among today's tribes.

Then at the North Rim of the Grand Canyon, a park ranger told me that they now have orders not to use the word "Anasazi" any more, when talking to tourists. They are supposed to use "ancestral Pueblo peoples" (and variants thereof) instead. It is sad to see scientific truth twisted by politics.

---
Theory of the kiva
Speculation about the Anasazi
Every Anasazi site from the latter stages of their development (when they were agricultural and built villages and towns) includes at least one "kiva", and often more, up to about eight (as at Chaco).
These are round stone structures, dug deep into the ground and extending above the ground. Each kiva typically has a tunnel leading to an associated above-ground structure called a "tower". Rectangular buildings in the vicinity may have been used for storage or habitation. The kiva-tower pairs seem to have been meant for religious purposes.

Jim Judge mentioned that the acoustics inside kiva are incredible, and that kiva typically had foot drums. We know from pictographs/petroglyphs that the Anasazi had flutes. (A common figure known as "Kokopeli" is a humpbacked flute player.) They would probably have had the equivalent of castanets. And it is possible that some of their pots might have been used as drums as well.

My amateur uneducated guess is that main function of the kiva was for music and dance, both for entertainment and religion. Then perhaps the tower and the tunnel to the tower were for acoustics. Then perhaps multiple kivas in a community were for musical effects (harmony and/or volume), and perhaps the cliff-side locations were also chosen for acoustics.

Perhaps performers themselves were the only audience at the smaller sites/villages. But at Chaco and Mesa Verde the audience and dancers might have assembled above or below the cliffs and on the wide ceremonial roads.

There also could be occasions when performances were held at many kiva at the same time -- even ones at long distances from one another -- for cumulative effect and for appreciation at spots between/among them.

If music and dance were very important to them, that might be one reason why they settled in rocky and desert territory, rather than in forests or fertile plains -- for the echoes and the long-distance acoustic effects. (Cf. the Hopi expression -- "dance is the essence of our life".)

Wild guess -- perhaps as part of the performance/ceremony a flute player would stretch out in an awkward humpback-like position in the tunnel.

---
"The American Southwest (Nevada, Utah, Colorado, Arizona, and New Mexico): history, nature, and fiction" contains the text of 28 books. Complete Table of Contents
Buy the Southwest CD here using PayPal --
A library for the price of a book.
This site is Published by Samizdat Express, 213 Deerfield Lane, Orange, CT 06477. (203) 553-9925. seltzer@samizdat.com
.
---
---