UA-112394588-1 UA-112394588-1
Genealogy and Family History
The Golden Years: Memories in Times of Love and War
by Jessica Bizik
---
This article originally appeared in the October 1998 issue of the Maryland Alumni magazine. It is posted here with permission. To contact the magazine, send email to the Alumni Association at Terp_Alum@umail.umd.edu or phone them at 800-336-8627.
---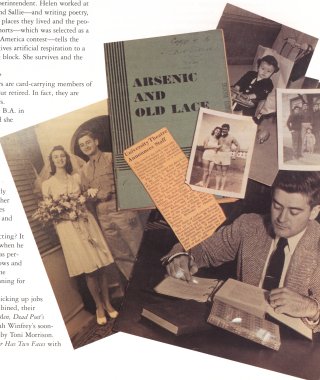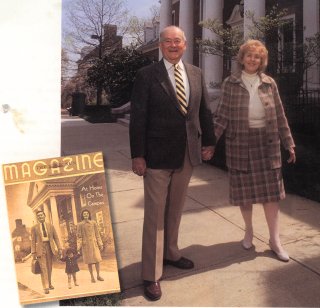 Fifty years ago, Richard and Helen Seltzer graced the cover of the Baltimore Sun's Metroravure section as the typical veteran-student family. Today, they are anything but the typical retired couple. Join them as they retrace their love story from the War Years to the present.
If Dick Seltzer's life was a movie script, it might open like this...
An older boy, say 17 or 18, with features strikingly similar to Martin Sheen's, walks into downtown College Part to grab a soda. He is joined by a few buddies -- all dressed in ROTC uniforms, their pockets lined with gum wrappers and eraser shavings. It is the fall of 1942 and the streets are filled with soldiers. Being there made the boys feel closer to the war. It was the closest they could get at the time.
By January the conflict in Europe intensifies. Seltzer and friends are riding a trolley backwards down the middle of K street in D.C. They became enlisted men today. They are on their way to boot camp.
At Camp Lee, the weather is unseasonably cold and the barracks are barely warmed by space heaters that keep going on and off the fritz. Seltzer gets the flue and spends two weeks in the army hospital. By the time he returns, his friends have all been shipped out. Worse, his papers are lost and no one knows where he's supposed to be.
"So I walked around for weeks like a lost soul. Did k.p. duty and guard duty. Went to truck driving school. Eventually, they sent me to the University of Pennsylvania to study German, which was the best thing they ever did, because all my credits transferred back to the University of Maryland," he says.
"Ahem! And because you met me!" Enter Helen Estes Seltzer, a woman of uncompromising warmth and charm. Always armed with a compliment or a slightly dirty joke, Helen has been married to Dick for over half a century. They have the natural tendency to finish each other's sentences. They're told this story many times.
"Oh yeah, I forgot about you," Dick says, ribbing his better half.
Helen sits up like an ostrich, gives him what most husbands would call The Look, and adds, "So it's not just a war story; it's a love story, too."
---
Think August in Philadelphia -- fire-hydrant fountains, heated crew races, bottled Coke and nickel soft pretzels. A crowd of students -- many of them wanna-be actors -- are packed into the Stage Door Canteen, a hole-in-the-wall bar with the best juke box in town. Inside, Dick Seltzer wipes his brow, tugs at the bottom of his uniform. He is hot and a little nervous. He's trying to come up with a line worthy of the brunette at the corner table.
"Excuse me, Miss. Are you, by chance, Pennsylvania Dutch?" he asked.
"Absolutely not!," she replies. "I'm English Welsh."
"Sorry, I thought it was a compliment," he says, half-flirting, half embarrassed.
---
"I thought, 'What is this jerk asking me dumb questions for?'" recalls Helen, a Main Line Girl, through and through. "But later, when he came over to ask me to dance, I felt like it was my duty. So we danced. And that was the end of me."
Afterwards, the couple met five blocks away for a late-night dinner. Then, they walked home separately, so as to avoid suspicion of "improper behavior."
"I watched him walk half a block ahead of me, clicking his heels and swinging around lamp posts," says Helen. "I could hear him singing 'What a girl! What a girl!' And I knew right then and there -- the man making a fool of himself in the middle of Broad Street was going to be my husband."
---
By the following May, Dick was transferred to an anti-tank company at Camp Atterbury in Indianapolis. After revealing his childhood experience with music lessons, they made him head bugler. But the outfit was full of flunkies and misfits -- mean who had gone AWOL, men with poor training and no spirit. It made him nervous for the future.
"So I asked for a seven day leave and the two of us tied the knot," he says. "At first, Helen objected to the day -- wanting to get married on Saturday like other brides. But Monday was my 21st birthday, and that meant my parents didn't have to sign." Obviously, they waited.
After a lovely honeymoon on the Hudson River, the soldier returned to duty and Helen continued her work at Reynolds. "I was secretary to one of the partners, which basically meant I took his pants to the cleaners," she says. "But I got to send a wire to Dick every day, which made it seem worthwhile."
Then, August of 1944 brought a small miracle tot he newly-weds. Dick's orders changed and he was transferred to the military intelligence training center at Camp Ritchie, where Helen was permitted to join him. About that time, a young boy from Georgia replaced Seltzer as the 106th Division bugler. During the Battle of the Bulge, the entire 106th was captured and imprisoned. The bugler was never seen again.
The Seltzer remained together at various camps -- all on US soil -- until the end of the war. Afterwards, they headed back to Maryland, so Dick could finish his education.
---
Small green lawns, loaded clotheslines and go-carts stacked with groceries and toys combine curiously with college pennants, football jerseys and ponderous textbooks. the 104 families who live in the Veterans Family Units at College Park are a synthesis of suburbia and campus.
This is how the Baltimore Sun described Veterans Village, where the Seltzers settled after the War. The couple rented a one-bedroom apartment with a two-burner electric stove and an alcove that they miraculously transformed into a nursery for 16-month-old baby Ritchie, named after the camp. The rent was just $22.50 paid out of the couple's $90 monthly stipend. Dick was able to earn a B.A. in history and an M.A. in education before his G.I. Bill ran out.
In order to help make ends meet, Dick took on part-time jobs as a scout master and a school bus driver. Helen worked as a Kelly Girl.
"Every day, I carried the baby on two long trolley rides to Silver Spring, so Dick's mother could watch him while I worked in Washington," she says. "Then, in the evenings, Dick picked us up in the school bus, so we could all drive home together."
"So between work and school, there wasn't much time for fooling around," adds Dick. "The vets were older than traditional students. "We all wanted to make good grades. We all needed our sleep."
Still, there was a special camaraderie among the tenants of Veteran's Village, who found their own ways of having fun. The wives made dinner for the single vets on campus and took turns babysitting all the kids, so other couples could have some down time. Sometimes that meant a double date at Zal's, a burger joint run out of a shack on Route 1. Other times, the men went off to study in the library, while the women played bridge or formed sewing clubs. Helen recalls that letting down hems was "the thing to do" to be fashionable in 1948.
Another popular pastime was Terrapin football. The Village was situated behind the present-day Fraternity Row, which provided a great view of the old stadium. During the summer, the families laid out on blankets and ate picnic lunches, while watching the players practice below. Note, this tradition quickly ended when Coach Tatum arrived in 1947. He put up a huge wooden fence to prevent anyone -- even fans -- from scoping out his secret plays.
But the Seltzers may have started a football tradition of their own. In 1948, Dick received rave reviews playing Teddy in the Footlight Club's production of Arsenic and Old Lace. In a key scene, Teddy stands on the sofa, points to the sky, and yells "CHARGE!" at the top of his lungs. This is exactly what the Seltzers and friends did to cheer on the Terps during key plays. So, who knows? Maybe they did start the custom. But neither claims to know the origin of the Wave.
After graduation, Dick Climbed the east coast academic ladder as a respected teacher, dean and superintendent. Helen worked at home, raising two kids -- Ritchie and Sallie -- and writing poetry, short stories and folklore about the places they lived and the people they met. One of her favorite shorts -- which was selected as a finalist in a Writers Foundation of America contest -- tells the story of a New Jersey farmer who gives artificial respiration to a dying pig on her way to the selling block. She survives an the farmer gets his money.
---
Today, in their mid-70s, the Seltzers are card-carrying members of the AARP, but they are anything but retired. In fact, they are working on second and third careers.
AT 52, Helen graduated with a B.A. in English from Goddard College, and she spent the next eight years compiling a 50-pagefamily genealogy. During that time, she learned that the Estes clan has at least three proven lines of royal blood and that they got their coat of arms from Queen Elizabeth I. With this inspiration, Helen recently started a business that researches other family's coats of arms and reproduces them on crest jewelry, stained glass and parchment.
And remember Dick's flair for acting? It finally came full circle in the '80s, when he became a professional actor. Dick has performed in several dinner theater shows and commercials, including a spot for the Pennsylvania lottery that's been running for over five years.
The Seltzers also travel around picking up jobs as "extras" for t.v. and movies. Combined, their credits include Law and Order, Tin Men, Dead Poet's Society, For Richer or Poorer, and Oprah Winfrey's soon-to-be-released adaptation of Beloved by Toni Morrison.
"Oh, and I was also in The Mirror Has Two Faces with Barbara Streisand," adds Helen. "Well, actually only my shoulder was in the final version. But there was gorgeous pink blouse on that shoulder," she laughs.
"Yep, I saw you in that," confirms Dick -- part faithful husband, part eagle-eyed extra.
As for the Seltzer children, they have a creative bug, too. Ritchie, now Richard, is an author and playwright, who is also considered on of the foremost experts on the Internet. Sallie is an independent filmmaker, who hopes to premiere her work at the Sundance Film Festival someday.
With this much talent in the family, it's easy to believe that the Seltzer saga may truly end up on the silver screen. If it does, Helen has made sure they'll have plenty of stories to choose from.
"In the early days, we didn't have enough money to buy a camera," she says. "So on our honeymoon, I started a diary to document the great moments of our lives -- it's something I still do today. And you know what? Looking back, you learn something. Whether you're young or old, rich or poor, at war or at peace, something special happens every day. And in the end you realize -- they've all been golden years."
---
Please send feedback to: seltzer@seltzerbooks.com
---
Search Genealogy and Family History:


---